Waste Water Management and Treatment Systems for Atlanta and All of Georgia, Tennessee, North Carolina, Florida & throughout the East Coast
Advanced, innovative, and knowledgeable, Bio-Flo Service Company provides waste water management and treatment systems to bakeries, sweet goods producers, restaurants, and other food processors in Gwinnett, Cobb, Fulton, and Clayton counties in Georgia, as well as throughout the East Coast. Our in-depth knowledge and technological expertise allows us to design and implement systems that maintain proper pH levels, as well as provide consulting to help you adhere to BOD and TSS compliance without the need for constant oversight on your part, or employee handling of chemicals.
Our waste water management services include: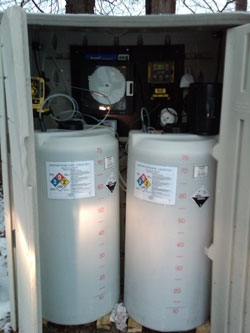 In addition to providing chemicals and systems, Bio-Flo offers assistance with associated paperwork and regulatory bodies, using our knowledge in the area and familiarity with procedures to ensure smooth, successful communication.
For more information on our waste water management and treatment systems and services, including dry ice cleaning contact Bio-Flo today. We're happy to work with bakeries, restaurants, sweet good producers, and more companies from Atlanta to Raleigh to Knoxville and throughout the east coast of the US.