Dry Ice Cleaning for Bakeries, Commercial Food Production, and More in Atlanta, Georgia; Nashville, Richmond, & Other East Coast Cities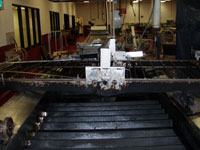 Before Dry Ice Cleaning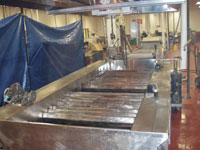 After Dry Ice Cleaning
Dry ice cleaning is a highly efficient and thorough way to clean commonly used food production equipment like tubes, lines, molds and conveyors. Also known as dry ice blasting, this process is ideal for not only systems at large scale operations, but also for cleaning restaurant equipment and machinery at non-food businesses. Bio-Flo can perform this service for your company in Gwinnett, Clay, Cobb, and Fulton counties, or anywhere else in Georgia and the eastern U.S. Using innovative equipment from Cold Jet, we can cut the time needed to clean your equipment by 80%. What's more, dry ice cleaning also does a better job of removing grease, crumbs and other debris than traditional equipment cleaning, and it does so without the high level of water waste inherent in conventional methods.  With this tedious job off your to-do list and in the hands of Bio-Flo, your employees can be used more effectively in other roles.
In addition to dry ice blasting services, Bio-Flo can also provide you assistance with wastewater treatment services including:
If you'd like more information about dry ice cleaning or any of our other services, contact Bio-Flo today. We're happy to serve companies in Georgia, Tennessee, Virginia, Florida, North & South Carolina and beyond.
Click play below to watch a short introductory video of our dry ice blasting services.