Grease Trap Services for Atlanta, Richmond, Chesapeake, & Other Southeast Cities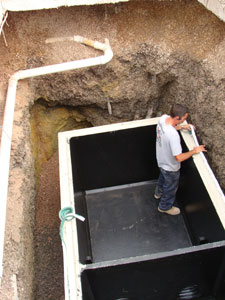 Quality Control Measurements during an Interceptor Installation Project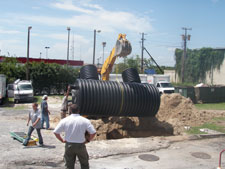 Installation of a 1500 Gallon Polyurethane Interceptor
No matter where you do business, be it Nashville or Atlanta, grease trap maintenance is truly important. Failure to keep your grease trap functioning properly can result in unsanitary wastewater back-ups and other messes that smell horrible and disrupt work.  Worse than that, it can result in hefty non-compliance fees that eat up your profit.
You can avoid all of this by hiring Bio-Flo Services to handle all of your grease trap service needs, including:
Unlike other Georgia grease trap companies, we can also provide you with pH testing and treatment to ensure that the water expelled from your grease trap meets compliance standards. We provide this grease trap service in Atlanta and the surrounding area including Fulton, Gwinnett, Cobb, Henrico, Chesterfield and Clayton counties, so we are familiar with the regulations your business must comply with.  We can use this knowledge to swiftly resolve any issues you're having not only with pH, but also TSS, BOD, FOG, and more. In fact, we can provide you with a complete wastewater treatment solution that frees you from managing your wastewater, while also giving you the peace of mind that it's being done properly. When you hire Bio-Flo, you can also have us perform dry ice cleaning on any of your food production equipment. This cleaning technique is quicker and more thorough than traditional methods.
If you'd like more information about wastewater treatment or grease trap services in Atlanta, Richmond, Hampton, Nashville, or any other city in the eastern U.S., contact us today. 
We are currently expanding our line of services. We are currently lining grease interceptors with a state of the art liner system that will prevent corrosion of the concrete thus reducing the need of replacing your grease interceptor as often and giving you considerable savings in the long run. Please contact us for further information.