Grease Trap Installation in Atlanta, Richmond, Hampton, Raleigh, Nashville, Chattanooga, Jacksonville, and Surrounding Areas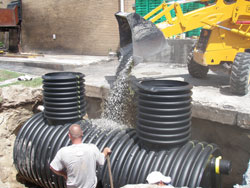 There are likely countless companies in your area that will perform grease trap installation, but can you trust any of them to provide the ongoing services you'll need to keep your equipment running smoothly? Bio-Flo offers its customers comprehensive grease trap services including grease trap design, installation, pumping, and maintenance. If you don't get all these things from your commercial grease trap company, you could end up with a trap that isn't well suited for your facility or isn't doing its job effectively. In either case, the result could be costly non-compliance fees or messy, foulsmelling backups.  By choosing Bio-Flo, you can rest assured that neither of those scenarios will occur.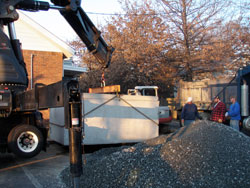 After assessing your needs and performing the grease trap installation, we will:
Create a system to regulate the pH of wastewater running through your grease trap
Add the appropriate chemicals for pH balancing
Return regularly to add chemicals, pump the trap, and perform maintenance
We're also able to provide you with grease trap replacement should yours fail.All of these services are performed by trained technicians who are not only familiar with grease trap installation and maintenance, but wastewater pH requirements too. That kind of knowledge isn't somethingthat a lot of run-of-the-mill restaurant grease trap companies provide and it can mean  the difference between being in compliance with wastewater regulations and paying a large fine.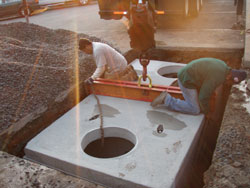 So if you need a new grease trap for your food service facility, or you need to replace a service provider that's not doing its job well, choose the company that takes grease trap installations and after care seriously – Bio-Flo. Contact us today for more information. We're happy to serve clients in Atlanta, Nashville, Richmond, Jacksonville, Hampton, Raleigh, Chattanooga, and elsewhere nearby.