PH Adjustment Systems for Bakeries, Restaurants, Sweet Goods Producers, and More throughout Atlanta and all of Georgia, Florida, Tennessee, the Carolinas, and Beyond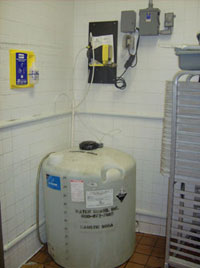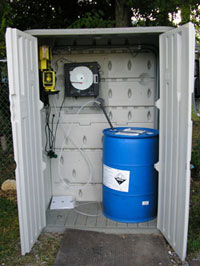 Model 801
Utilizing advanced technology and an innovative approach to pH compliance, Bio-Flo Service Company offers exceptionally unique and effective pH adjustment systems and chemicals for grease trap management in bakeries, sweet goods manufacturers, restaurants, and more. Available for lease to facilities throughout our home state of Georgia, as well as the entire East Coast, our waste water management systems allow you to focus on your business instead of spending time trying to figure out the complicated laws in your area. Rather than fronting the money to purchase a system and then worrying about repairs and maintenance, simply call Bio-Flo and we'll install one of our pH adjustment systems in your facility. Because it's a lease, we take care of all necessary maintenance and send our expert technicians to perform regular service visits and check chemical levels. Plus, we can even help with compliance paperwork and reporting.
Bio-Flo is proud to offer two distinctive systems for grease trap water pH adjustment:
Model 401 – A technologically advanced machine, the Model 401 pH adjustment system is installed by our expert technicians into your facility. Based on a precise and thorough analysis of your needs and the regulations in your area, this system operates on a digital timer which is set to release a predetermined amount of chemicals at certain intervals to neutralize the pH of the water in the grease trap.
Model 801 – Completely automated, the Model 801 pH adjustment system features a sensor that is installed into the grease trap to monitor pH continuously. If pH falls below a set point, then the system sends a signal to initialize a pump which releases sodium hydroxide or another chemical to neutralize the pH and bring it back within compliant levels. The Model 801 also includes a chart recorder, which allows you to visually track the pH status.
In addition to lease and installation of our pH adjustment system, Bio-Flo provides regular service for the equipment and employs technicians nationwide. During these checkups, we examine all fittings, the grease trap, its settings, and make sure there is enough neutralizer in the system to ensure continued performance.
For more information on our pH adjustment systems and other waste water management services like BOD compliance, FOG compliance, pollutant mitigation, grease trap management, grease trap installation, and dry ice cleaning, contact Bio-Flo Service Company today. We're happy to help companies in the Atlanta, Georgia area, as well as throughout the entire state and in Tennessee, North and South Carolina, and more states on the East Coast.