Wastewater Treatment for Georgia, Virginia, and Tennessee Bakeries & Food Producers
Total wastewater treatment for your Georgia food service facility means more than balancing pH; it means dealing with pollutants as well. You can get this type of complete treatment for your wastewater in Atlanta from Bio-Flo Services. We also serve Henrico, Chesterfield, Gwinnett, Cobb, Fulton, and Clayton counties as well as Richmond, Hampton, Chesapeake, Raleigh, Nashville, and beyond.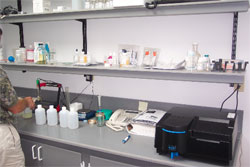 When it comes to pollutants, we not only offer testing and treatment of oil and grease, but also:
TSS (total suspended solids)
Phosphorus
Metals
In addition to pollutant management, we also provide services for grease traps as well as biological oxygen demand (BOD) and pH compliance. But, these are just part of what we offer at Bio-Flo – comprehensive wastewater treatment for Atlanta, Georgia food service companies.  We'll assess your unique wastewater challenges, lease you a system to treat them, and maintain it for you on a regular schedule. Additionally, we handle all of our clients' compliance testing and reporting, and to make things even easier, we provide complete grease trap maintenance and pumping. Our dry ice cleaning services are also a great addition to any service plan. They provide thorough and quick cleaning of food production equipment that is far superior to traditional methods.
If you'd like more information about pollutant management or any of our other wastewater treatment services for Georgia food service businesses, contact us today. We also serve clients in other eastern states like North and South Carolina, Virginia, Tennessee, and Florida.